One-touch drum removal
Simply press the button and turn to release the juicing drum. It snaps into place when attaching.
BLDC motor
Our advanced motor is quiet, efficient, durable, and allows non-stop operation.
Variable speed
Four speeds from 40-120 rpm allow you to choose the optimum processing rate for different produce.
Dual feeding tube
Our feeding tube combines a standard opening for most produce along with a deep bowl for berries, greens, and more.
Juice flap
No more drips from counter to sink. The juice flap lets you close the juicer after use for easy cleaning
New juicing system
A redesigned juicing chamber, auger, and end cap with rotating stainless steel blade endures the highest yield.
Stainless steel screens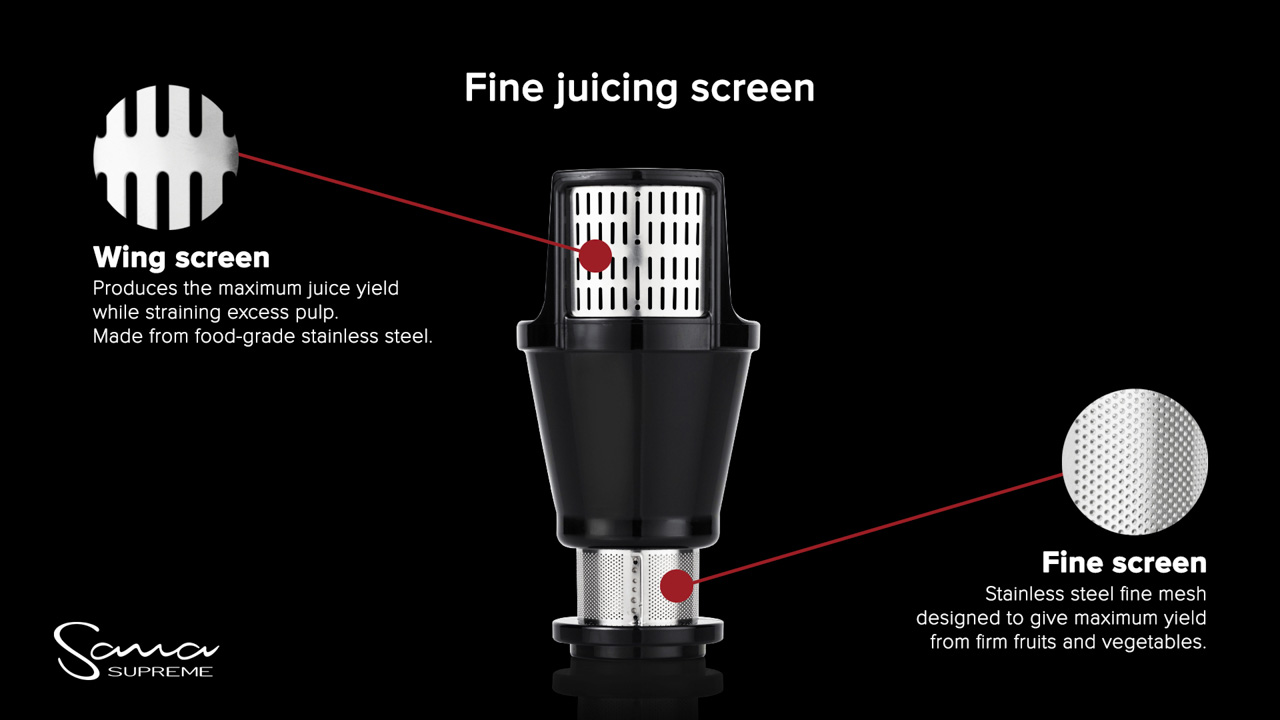 Fine Screen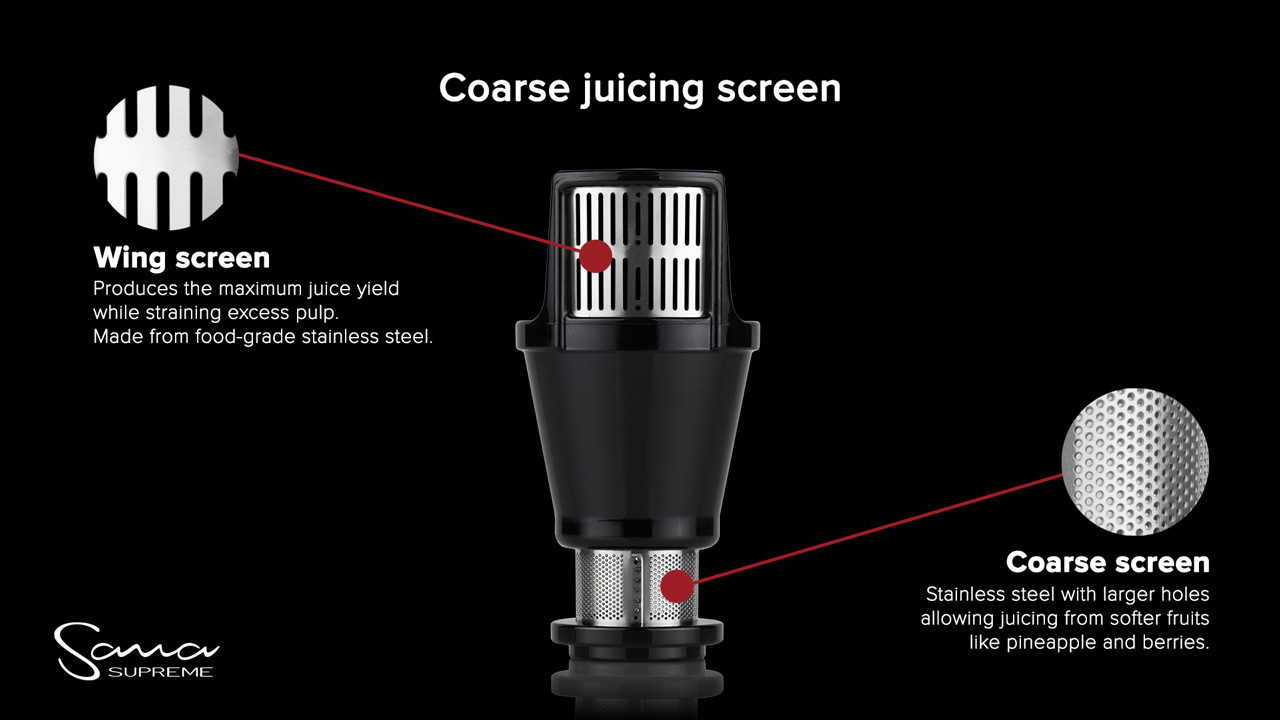 Coarse Screen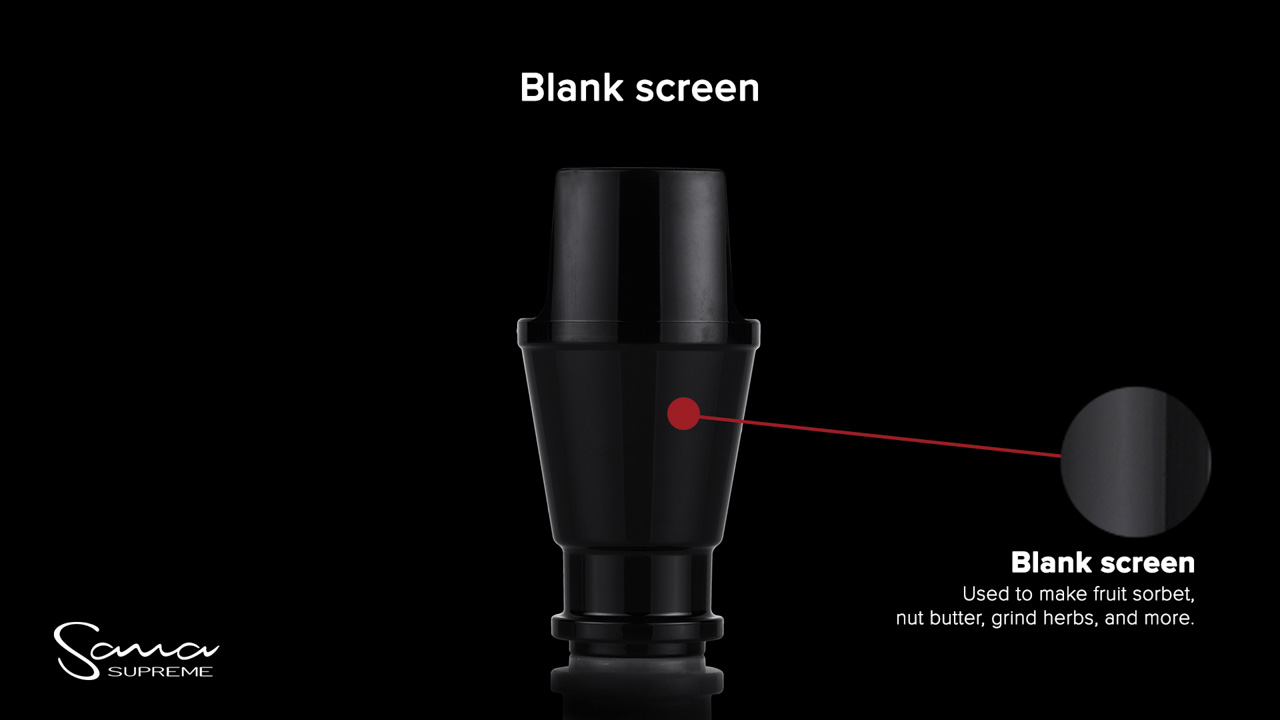 Blank Screen
BPA-free materials
BPA-free materials combined with stainless steel ensure the most hygienic and best-tasting juice.
Optional oil extractor
Make your own cold-pressed oils at home from a variety of seeds with Sana's stainless steel oil extractor attachment.
Premium containers
We love to include premium juice and pulp containers with our juicers, but with the Sana Supreme we decided to do something extra. We travelled to the town of Harrachov, high in the mountains of the Czech Republic, to one of the last remaining Bohemian crystal workshops. There we met with expert craftsmen who designed a custom Bohemian crystal glass for us. Each one is etched with the Sana logo, and made completely by hand. With a generous 500ml capacity, these glasses look beautiful and are reassuringly solid. We also designed a custom container for the pulp. Made from food grade stainless steel, it is a hygienic solution for people who want to use their pulp in muffins or crackers. And the upswept angle perfectly matches the chrome accent ring on the juicer.
One-touch drum removal
BLDC motor
Variable speed
Dual feeding tube
Juice flap
New juicing system
Stainless steel screens
BPA-free materials
Optional oil extractor
Premium containers