DESIGN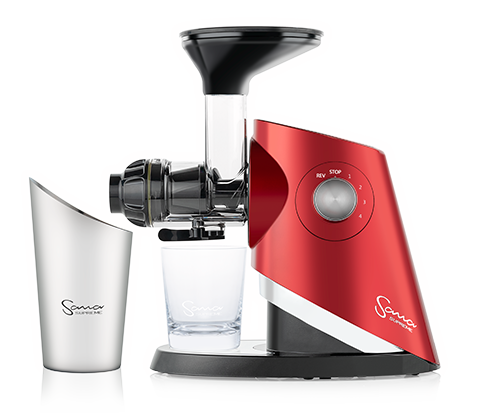 Our goal with the Sana Supreme was to combine the best features of both horizontal and vertical juicers in one new design. We think we achieved this goal. The Sana Supreme combines the tall yet compact form factor of a vertical juicer with the flexibility and functionality of a horizontal juicer.

We wanted the Sana Supreme to not only perform better than any other juicer, but also to look distinctive and elegant on your kitchen counter. A sloping cylindrical shape with a contrasting chrome accent band gives it modern and clean look. Combined with the upwardly swept lines of the stainless steel pulp container, this is one appliance you won't want to put away.

We spared no expense in the design of the Sana 727. Only the best materials are used in its construction. Reassuringly solid, it will be the last juicer you will ever need.