Features
We wanted the Sana Supreme to be not only the best performing juicer, but also the easiest to use. So we brought the best features from our other juicers, and developed some new features just for the Supreme.
Variable Speed
The Sana 727 offers four speed settings: 40, 65, 90, and 120 rpm. Lower speeds allow more gentle and precise juicing, minimizing foam and oxidation, and are especially good for soft or fibrous produce. Higher speeds are great for low fiber produce with a high liquid content like citrus. High speed is also a big time saver with oil extraction when using the optional oil extractor attachment.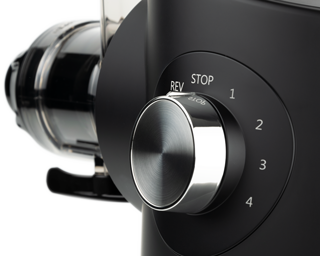 New Juicing System
The juicing chamber was redesigned, with a new pulp ejection system. We added a rotating blade in the drum cap to get one last squeeze of juice before the pulp is ejected.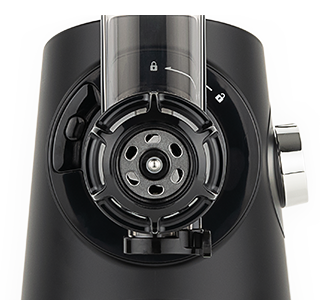 Fast removal system
A new one-hand button lock system replaced the traditional two-hand collar system, making it easier and faster to attach and remove the juicing drum from the body.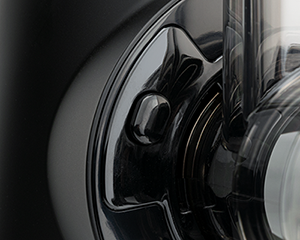 Juice tap
We added a new feature for the first time on our horizontal juicers: a juice tap. This is kept open during juicing, but can be closed after juicing to prevent leaks onto the counter when taking the juicing drum to the sink for cleaning. It can also be kept closed during rinsing to allow the drum to more easily fill up with water, making cleaning even easier.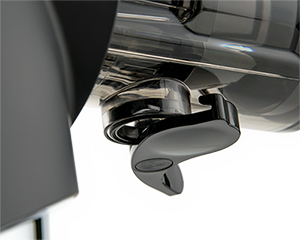 Double hopper
For the feeding tube, we took the best ideas from our vertical juicers and adapted them for the Sana Supreme. The result is a dual hopper with a standard opening plus a deep bowl for easy feeding of smaller produce or leafy greens.
Improved juicing screens
We improved the juicing screens, adding a stainless steel rear pulp screen, which is typically plastic. This gives the best combination of yield, pulp filtration, and flow.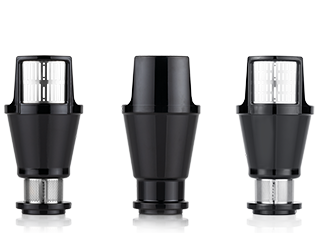 Premium accessories
We wanted only the best for the Sana 727 Supreme, so we partnered with the oldest glass factory in Bohemia to design a crystal glass to fit perfectly under the juicer. Each glass is hand-made in the mountains of Bohemia at the Novosad and Son glassworks. With a 500ml capacity and etched with the Sana Supreme logo, this heavy-duty Bohemian crystal is a keepsake itself. We also include a custom designed stainless steel pulp catcher. Its upswept angle perfectly complements the design cues of the juicer, and the large capacity means less time emptying it. The food grade stainless steel is ideal for those who like to use their pulp for muffins, crackers, and soups.